How to Write a Competitive Proposal for Horizon 2020
(A Handbook for Research Managers )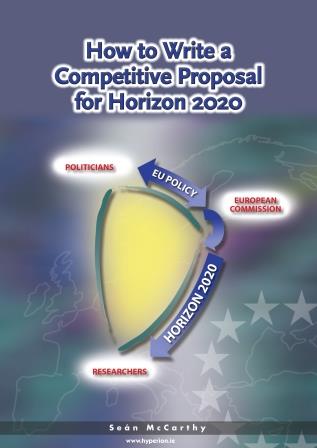 THIS BOOK IS SOLD OUT
IF you need a copy we will print an individual copy: Please contact mary.mccarthy@hyperion.ie

Table of Contents
Chapter 1: An Overview of Horizon 2020
| | |
| --- | --- |
| | Sources of Information on Horizon 2020 |
| | The Structure of Horizon 2020 |
| | Terminology used in Horizon 2020 |
| | The Secrets of Horizon 2020 Proposals |
Chapter 2: How the Research Priorities were Selected (How to Lobby)
| | |
| --- | --- |
| | Who decided on the Structure of Horizon 2020 |
| | Who prepared the Work Programmes for the Research Priorities |
| | Who's Who in the Technology Platforms |
| | Background to the Evaluation Criteria |
| | Key websites: Who's Who in Horizon 2020 |
Chapter 3: The Research Priorities in Horizon 2020
| | |
| --- | --- |
| | Pillar I: Excellent Science |
| | Pillar II: Industrial Leadership |
| | Pillar III: Societal Challenges |
| | EIT (European Institute of Innovation and Technology) |
| | Euratom |
| | JRC (Joint Research Centres) |
Chapter 4: How Proposals are Evaluated
| | |
| --- | --- |
| | Evaluation Criteria for Horizon 2020 Proposals |
| | The Evaluation Process |
| | The Evaluation Manual and the Forms used by Evaluators |
| | The role of the 'Expert Evaluator' + how to become an 'Expert' |
| | Key websites and documents on the Evaluation of Horizon 2020 Proposals |
Chapter 5: How to Write the 'Impact' of the project
| | |
| --- | --- |
| | Background to 'Impact' |
| | Template for writing the 'Impact' |
| | Example of 'Potential Impact' |
| | Websites to write the 'Impact' |
Chapter 6: The One Page Proposal
| | |
| --- | --- |
| | Structure of the One Page Proposal |
| | The Role of the One Page Proposal |
| | Example of a One Page Proposal |
Chapter 7: How to Streamline Proposal Writing
| | |
| --- | --- |
| | Planning, Preparing and Writing a Proposal for Horizon 2020 |
| | Time available to Write a Proposal |
| | Step-by-step guide (From the Call to the Deadline) |
Chapter 8: How to Find the Best Partners
| | |
| --- | --- |
| | Which countries can participate |
| | How non-EU countries can participate in Horizon 2020 |
| | How to find the best partners |
| | Key websites to select the 'Strategic Partners' |
Chapter 9: How to Write the 'Implementation' of the project
| | |
| --- | --- |
| | How to Manage R&D Projects. |
| | Potential problems in managing European Projects |
| | The Pert Chart, The Gantt Chart |
| | Work Package Description |
| | The Deliverables Table |
| | Work Breakdown per partner |
| | Websites, Templates and Webservices for Management of Framework projects |
Chapter 10:Legal and Financial Rules in Horizon 2020
| | |
| --- | --- |
| | The Rules of Participation |
| | The Grant Agreement and Consortium Agreement |
| | The Financial Rules of Horizon 2020 |
| | The Rules on Intellectual Property |
| | Key websites and documents for Legal and Financial Rules |
Chapter 11: What is your Strategy for Horizon 2020?
| | |
| --- | --- |
| | An Organisation's Strategy for Horizon 2020 |
| | A Strategy for Individual Researchers |
| | A Strategy for Beginners |
| | A Strategy for Small and Medium Sized Enterprises (SME) |
| | |
Annex Handbook Websites

Limitation of Liability
This webpage has been designed to help researchers prepare for Horizon 2020.
Every effort has been made to ensure complete and accurate information concerning the material presented in this webpage. However Hyperion Ltd cannot be held legally responsible for any mistakes in printing or faulty instructions contained within the templates. The authors appreciate receiving notice of any errors or misprints.
There are no warranties, expressed or implied, including warranties of merchantability or fitness for a particular purpose, made with respect to the materials or any information provided to the user herein. Neither the author nor publisher shall be liable for any direct, indirect, special, incidental or consequential damages arising out of the use or inability to use the contents of this webpage.